Basics
Nicknames & Aliases
Komui, Mui
Age
22
Nameday
21st Sun of the 2nd Umbral Moon
Race
Seeker/Keeper halfbreed
Gender
Male
Sexuality
Bisexual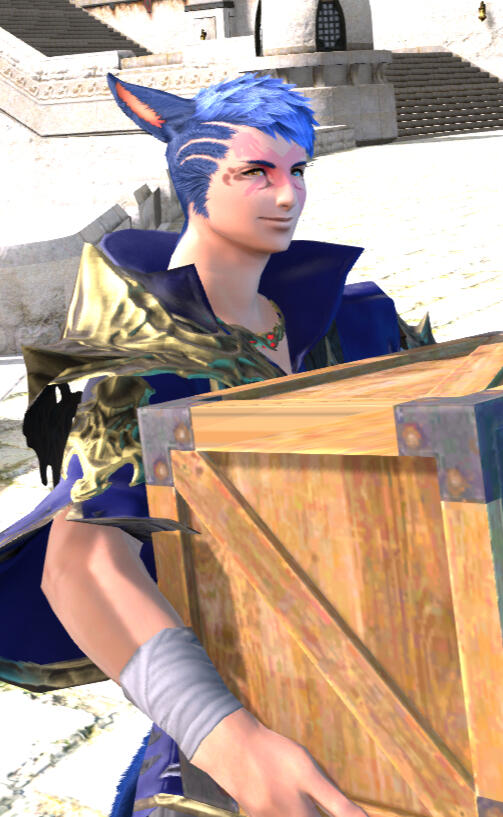 Marital Status
In a relationship, never married
Profession
Courier
Residence
The Mist
Birthplace
The wilderness at the northern border of the Shroud
Patron Deity
Menphina
Server
Mateus
Appearance
Hair
Deep blue undercut with lighter, slightly longer spiked blue hair on top
Eyes
Left is bright blue, right is orange
Skin
Peach with gray undertones
Height
5 fulms, 7 ilms
Build
Mesomorphic, strong
Distinguishing Features
His odd, brightly colored eyes pale in comparison to the distracting criss-cross of discolored skin consuming the very center of his face.

Despite being a halfbreed, his physiognomy would fool just about anybody into believing he's a Keeper. His greatest superficial giveaway is his short canines.
Clothing
Ko'mui wears his love for the color blue. Anything he appears in public with usually has blue on it somewhere. That is... if it's not already all over him.
Common Accessories
Linkpearl
Personal
Positive Traits
Imaginative, sincere, cooperative, relaxed
Neutral Traits
Cheeky, simple, impassioned, mischievous
Negative Traits
Gullible, uneducated, block-headed

Interests
Ko'mui has a love of the sea that rivals its very own expansiveness, but a pair of sea legs is nowhere to be found-- he seems perfectly content to appreciate it from ashore.

His other interests include building and flying kites, hardcore parkour, backpacking, and swimming. He's likely to enjoy most outdoor activities.
Dislikes & Fears
Ko'mui dislikes red meat, the Shroud, and the smell of ochu.

He fears things being thrown at or foisted into his face, and Seeker/Keeper tensions.
Trivia
Ko'mui does not eat red meat; he dislikes the taste.

His choice in fashion seems to hinge entirely on whether or not it's his favorite color. He's liable to show up wearing a full set of knight's armor if it was the deepest, richest blue he's ever seen.

He has a faithful chocobo named Peetie that he relies on for speedy transportation across Vylbrand.

He's a bit of a lightweight and tends to stick to one or two drinks at most as a result.

Believes in the existence of mythical creatures, like moogles.
Hooks
Vylbrand Voyager
Ko'mui's work as a deliveryman brings him all over the island, and he is liable to run into all manner of people.

Anyone who needs a parcel or shipment quickly and efficiently is also likely to meet him!
Friendly Face
He appears bright-eyed, amiable, and approachable.
'X' Marks the Spot
The big scar on his face could be worth bringing up by anyone bold (or ignorant) enough.
What in Catte's Name?!
Those familiar with miqo'te naming conventions may take note of the uncommon structure of his name.